Itinerary
Day One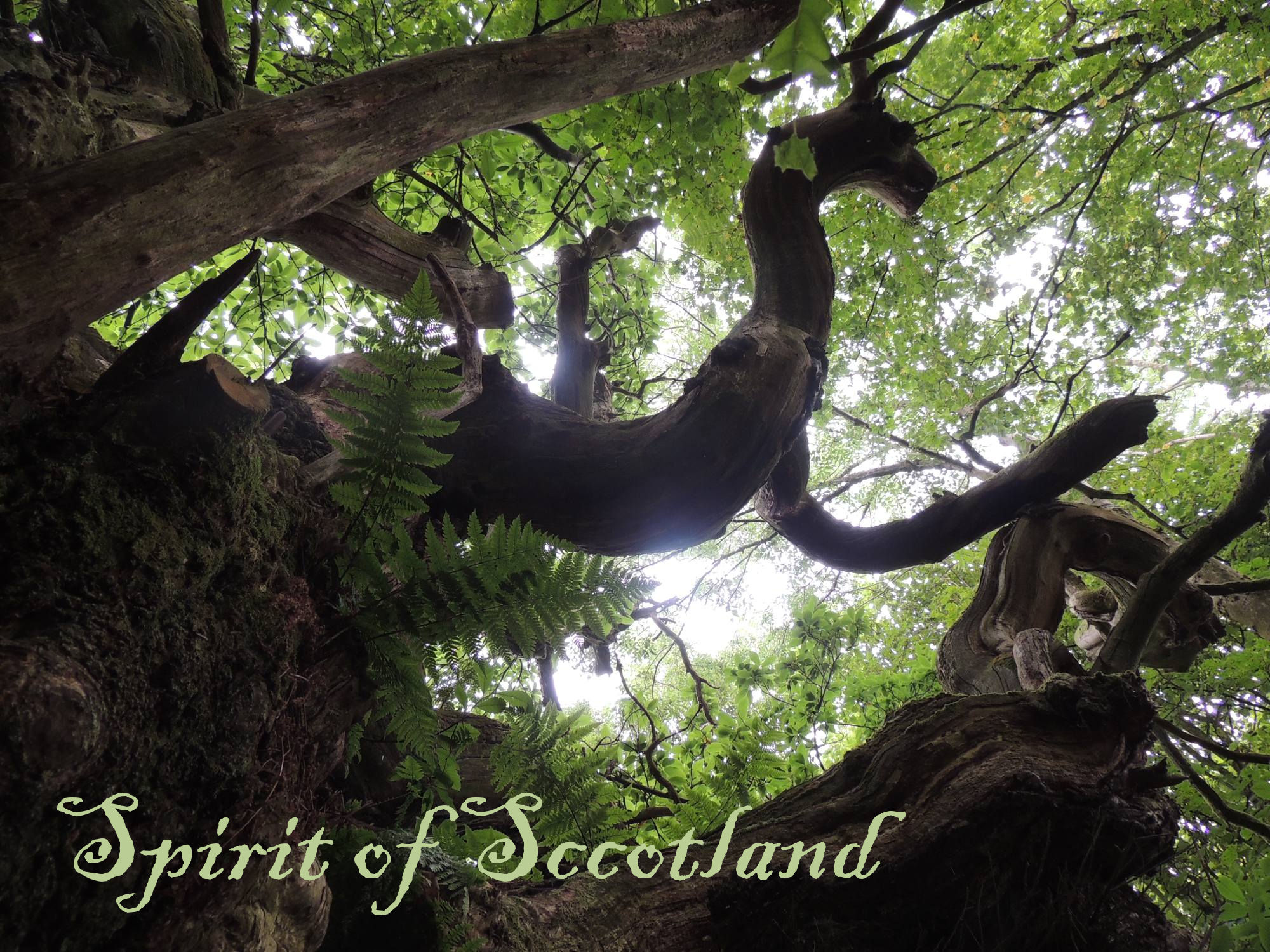 The dragon tree of Rosslyn Glen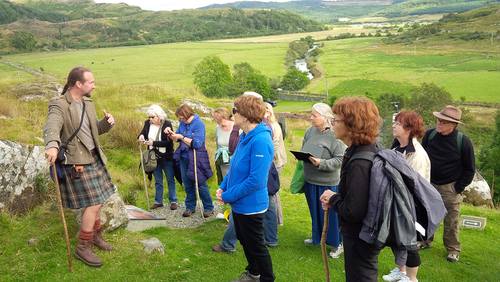 At Dùn Add.
©Tour guest Pam Payne.
We meet at Edinburgh Airport and the journey begins! We visit the exquisite Rosslyn Chapel, steeped in stories of the Knights Templar, starting with a walk in beautiful Rosslyn Glen. Then it's westwards through the wild glens of Loch Lomond and a scenic mountain drive takes us to the harbour town of Inveraray on Loch Fyne. By the end of our westward journey, we come to the hill of Dùn Add, once the royal seat of the first Scots in the 5th century, where we will hold our opening ceremony to make a connection with the sacred land. Tonight, we stay in the ancient kingdom of the Gaels, Dal Riata.
Day Two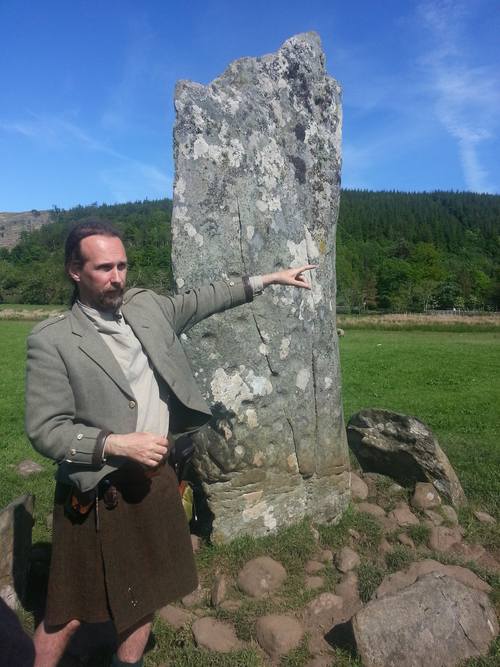 Bronze Age astronmony explained.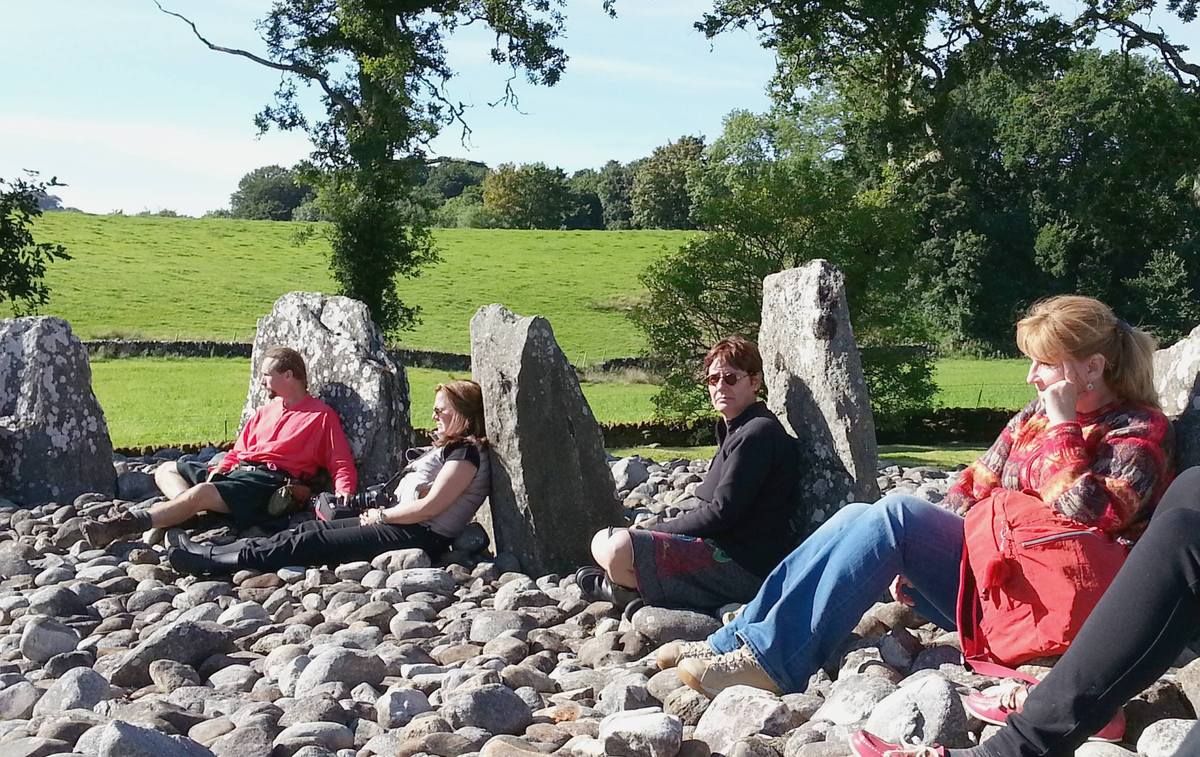 A moment's reflection in a stone circle.
©Tour guest Loreen Costa.
Today we explore one of the richest archaeological landscapes in Scotland: Kilmartin Glen, home to an astonishing array of stone circles, cairns, henge and forts covering 5000 years, including the Nether Largie standing stones and Temple Wood stone circle. We will also visit a hidden holy well and other little-known and special sites. While it is theoretically possible there is guide on the planet that knows the Kilmartin Glen better than me, it is unlikely: I lived amongst these stones for five years.
Day Three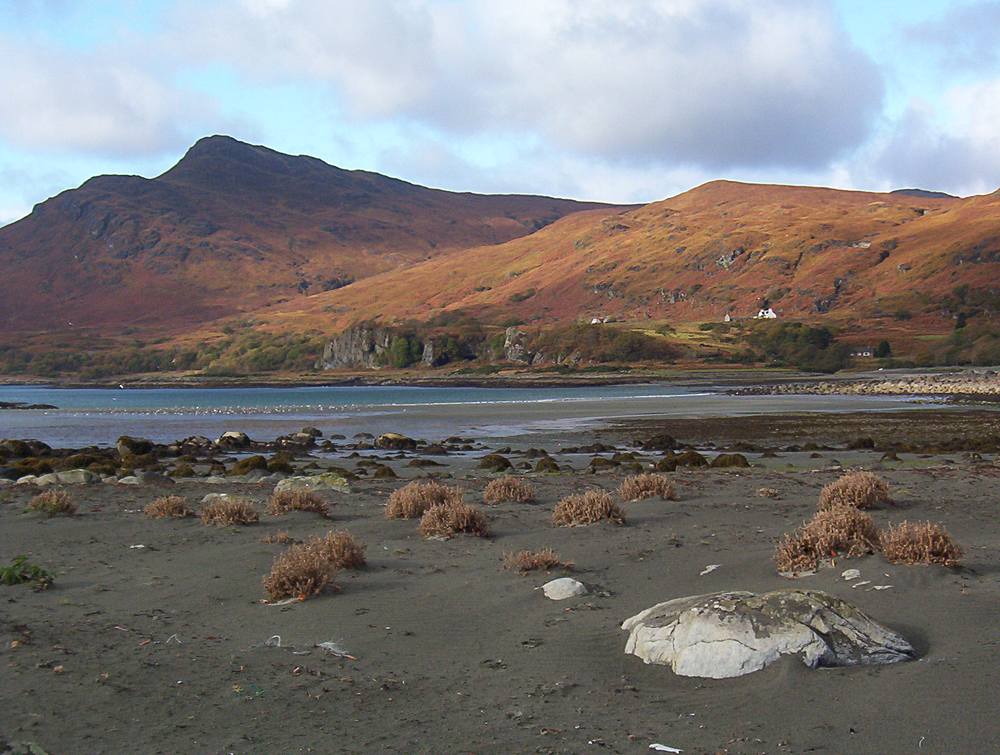 Mull, always dramatic.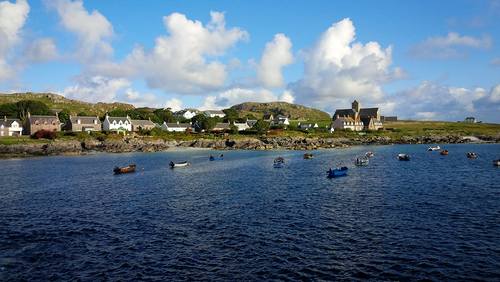 Iona
© Tour guest Pam Payne.
A short drive up the west coast takes us to An t-Òban, the "Gateway to the Isles," where there will be free time to stroll through this bustling Victorian harbour town. Then we cross by ferry to the wild and unspoilt Isle of Mull for a scenic drive through the mountains. Another short ferry ride takes us over to the holy Isle of Iona where we will stay for the next three nights. This evening we will stroll to the ruined nunnery with its sheela-na-gig.
Day Four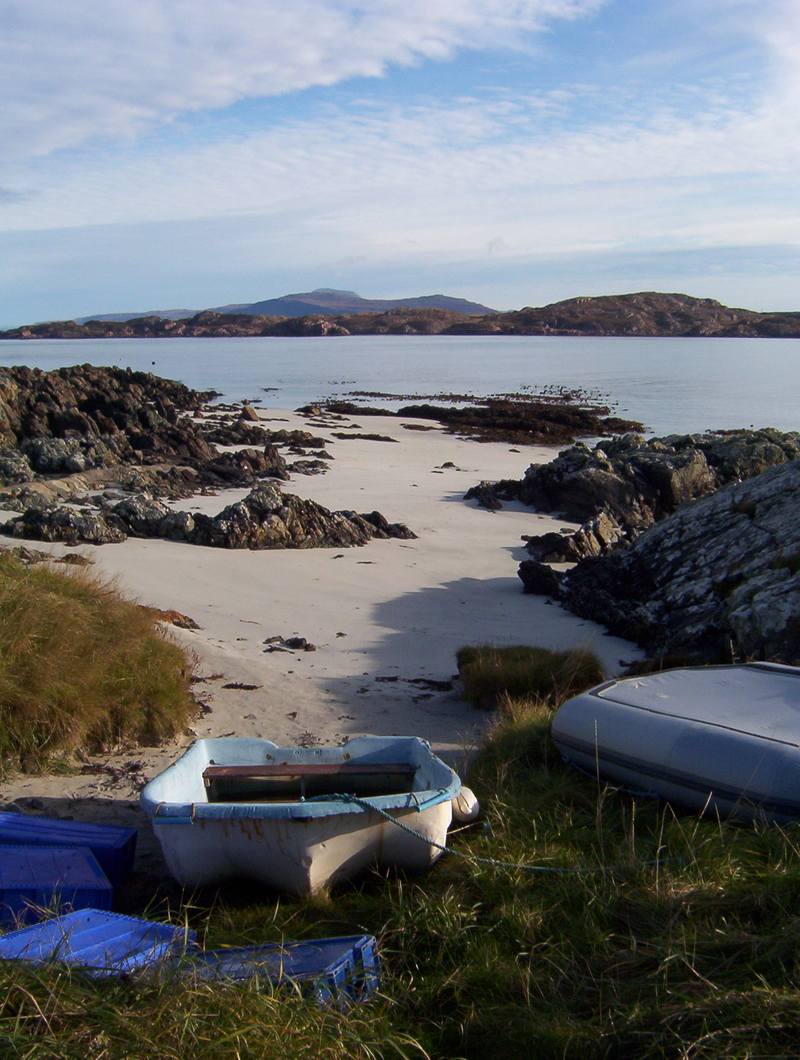 Iona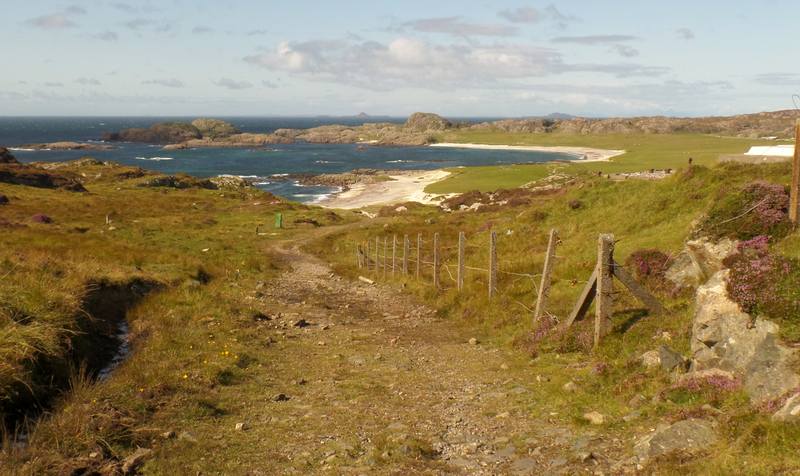 Iona, Traigh Bàn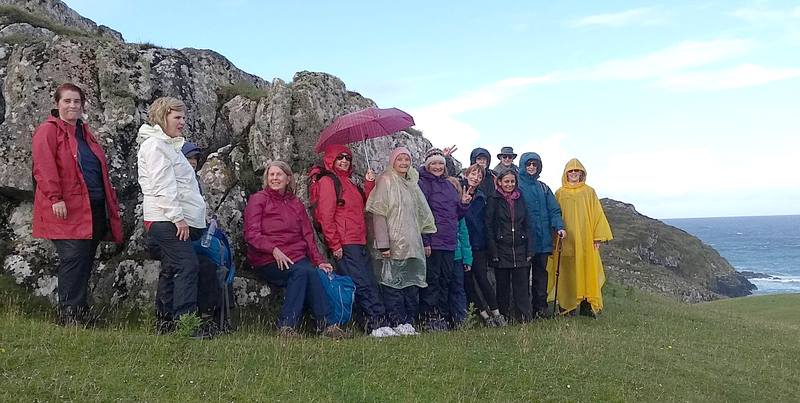 Pilgrimages are meant to be trying: weather!
Today we visit St Oran's chapel and the royal burial ground of Scotland's kings where we can pay our respects to the ancestors. Afterwards, we take a walk to the beach "at the Back of the Bay" where you might find beautiful Iona greenstones and walk a labyrinth. After lunch there will be a free afternoon when you can visit the craft studios and bookshops in the village, or find a sandy beach on which to relax. There is the option to take to the sea by boat in this kingdom.
Day Five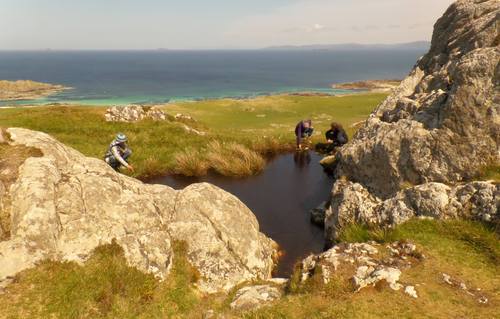 Well of Youth
Offering our Crosses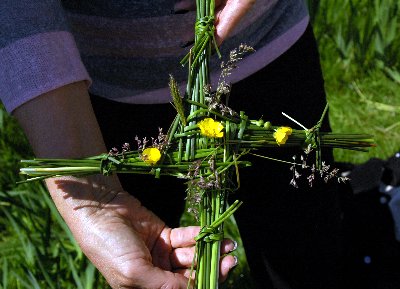 Making Bride's Crosses
You will learn about Iona's connection with the goddess and saint, Brighid, Brigit or Bride, and gather reeds to weave her crosses. Then we'll take a walk up the holy hill of Dun I to the Well of Youth, to bless them in the holy waters sacred to the ancient goddess. This afternoon you can take an optional guided tour of Iona Abbey, founded by St. Columba and lovingly restored by the Iona Community, then walk with Scot to a known faery hill.
Day Six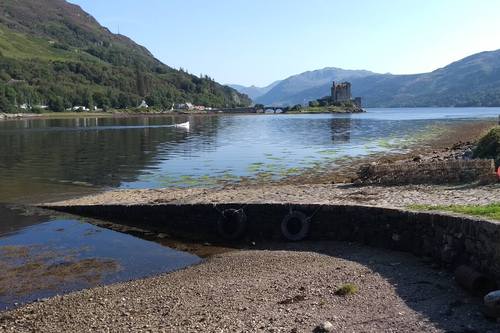 Loch Duich and Eilean Donan Castle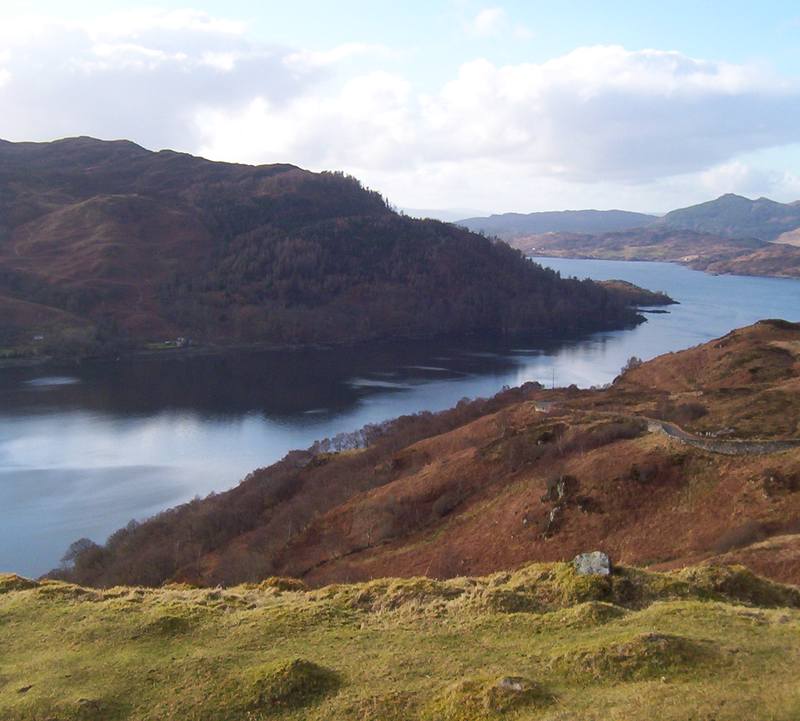 Overlooking Skye
Leaving Iona, we head northwards up the spectacular west coast, passing through the deep glens and rugged coastline of the Western Highlands famous across the world. We take the 'Road to the Isles' through the magnificent Highlands, stopping to view Eilean Donan, known as the most romantic castle in Scotland. Then it's "over the sea to Skye" to reach our for the next two nights, our hostelry dramatically situated overlooking the sea.
Day Seven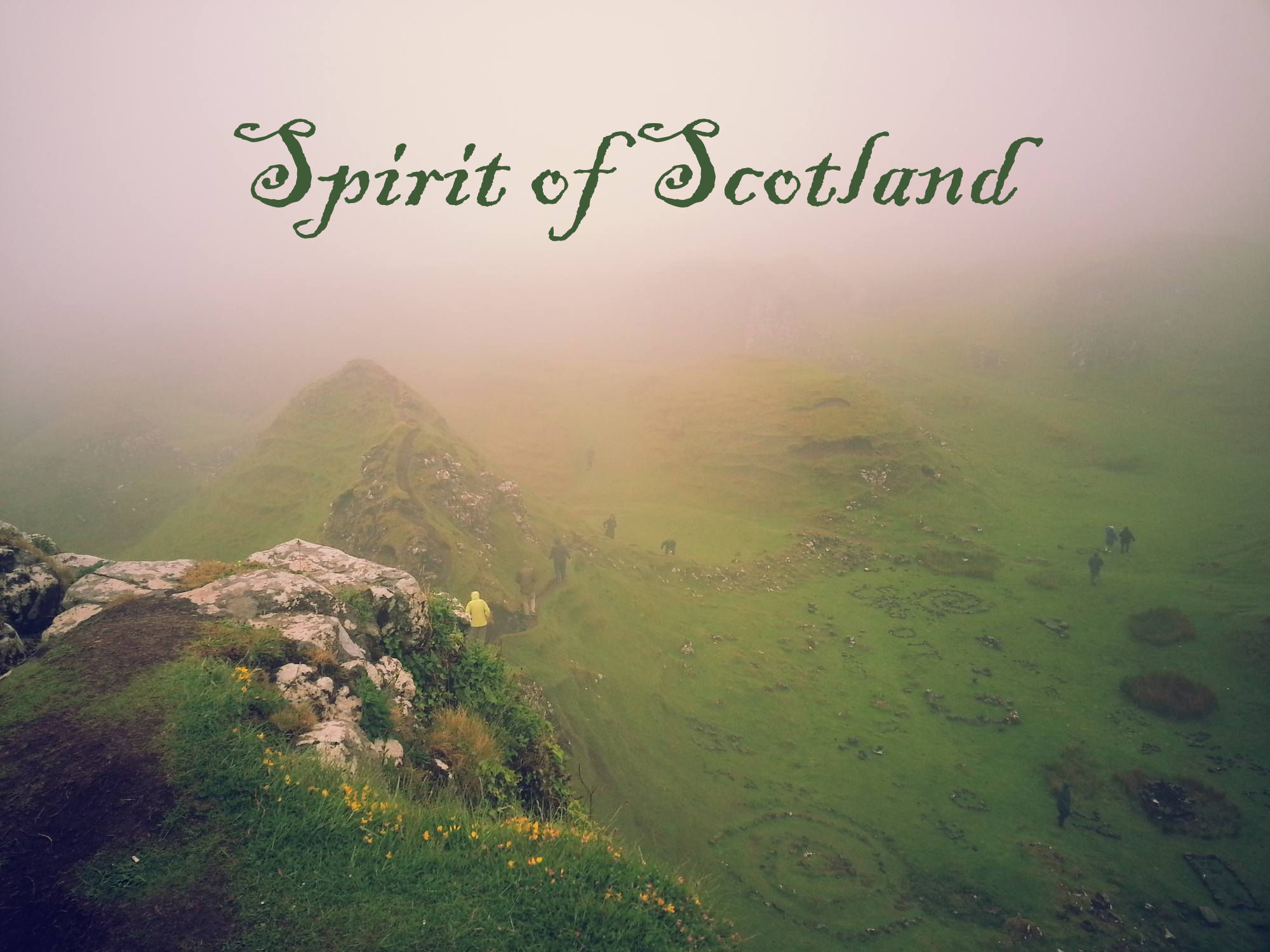 The Gaels call it "Isle of the Mist"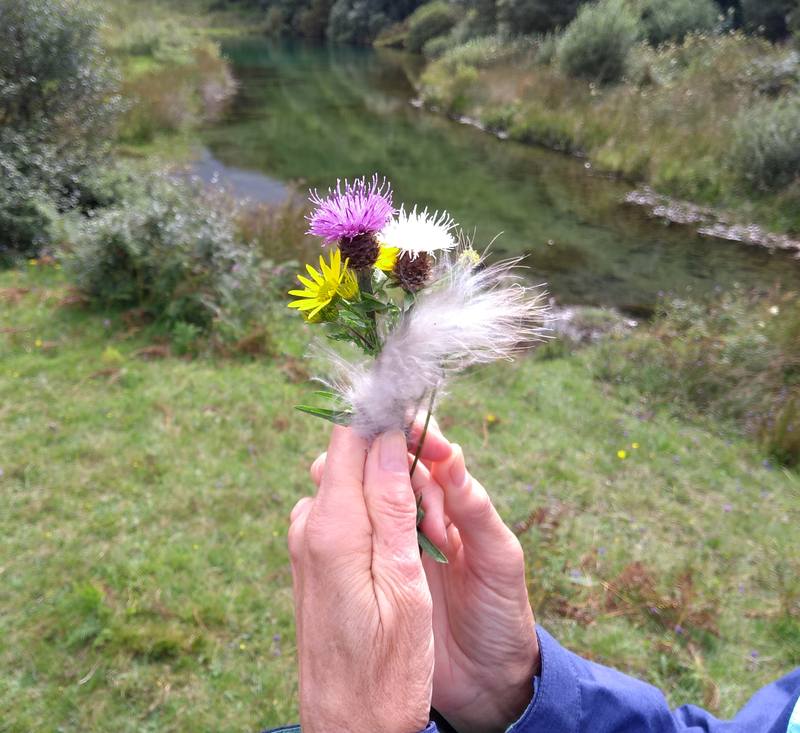 A gift for the Wee Folk
This morning we'll visit two places on Skye sacred to the Sídh Folk, thankfully still unknown to the tourist visitor (hence my lack of naming them here!) Along the way we'll wind through an enchanted country of waterfalls, dazzling seascapes and fascinating rock formations such as the Old Man of Storr.
Day Eight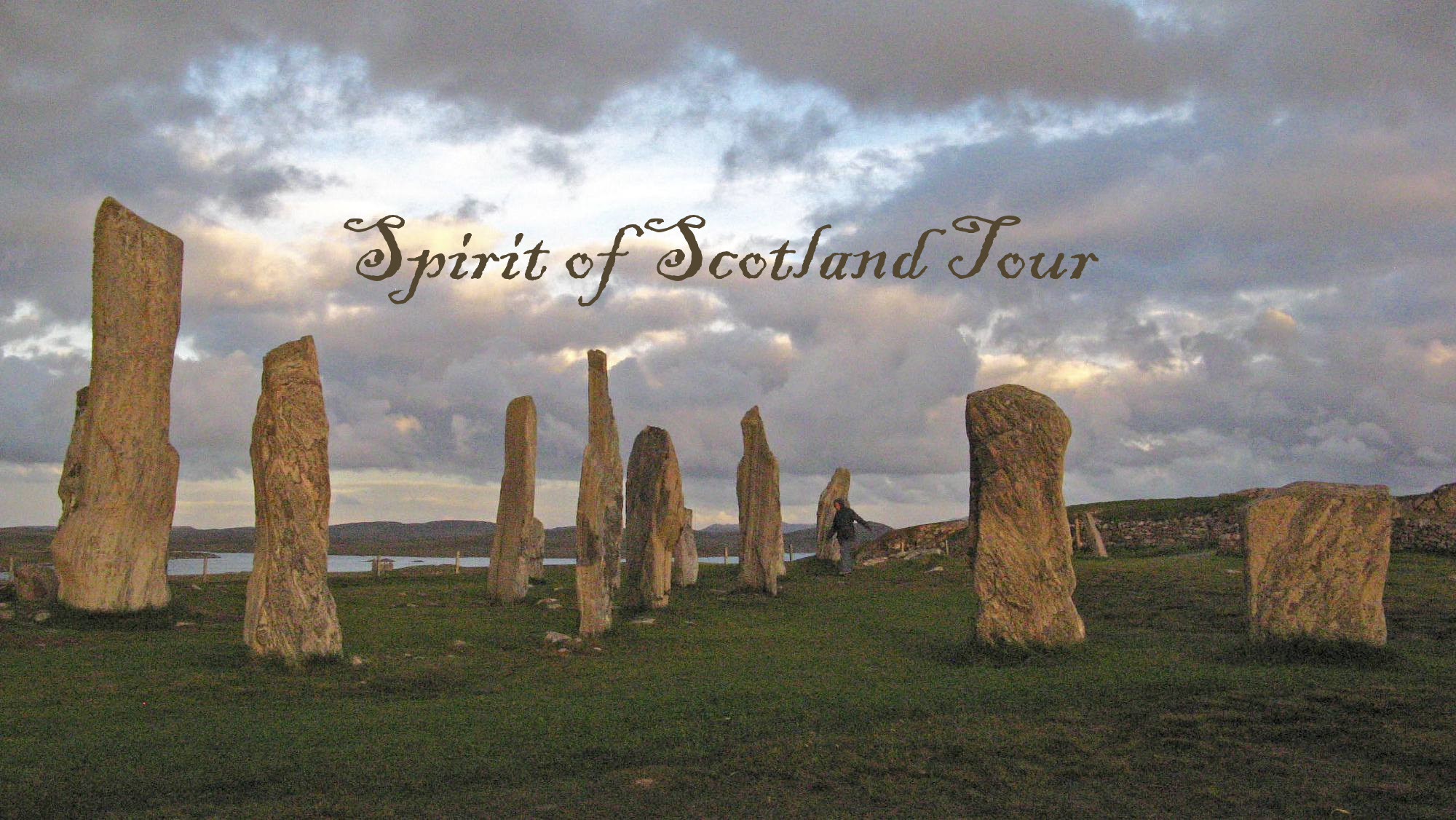 Calanais
Calanais by evening
There will be time for a morning walk to attune to the spirits of the land for one last time before we bid farewell to Skye. Then we set sail for Harris and Lewis in the Outer Hebrides, a remote and ancient island that is home to the world-famous stone circles at Calanais (Callanish). We will visit some interesting megalithic remains en route, then arrive with our host near the sea, which will be home for the next four nights.
Day Nine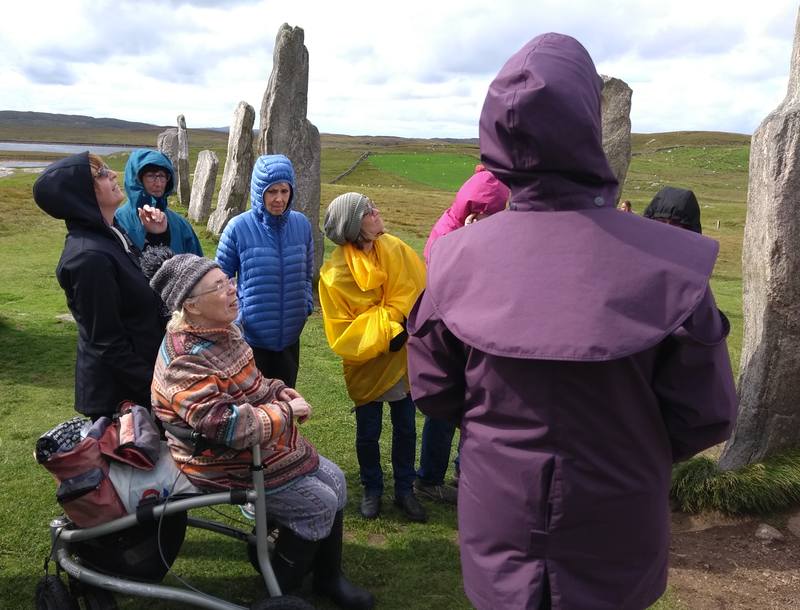 Meeting Margaret
Calanais: a solar place
In the morning we will begin to look at the complex of neolithic and Bronze Age standing stones. After lunch we'll meet up with a remarkable woman, Margaret Curtis, who probably knows more about the megaliths on this island than anyone else alive. Margaret will accompany us to the Calanais stones for a guided tour.
Day Ten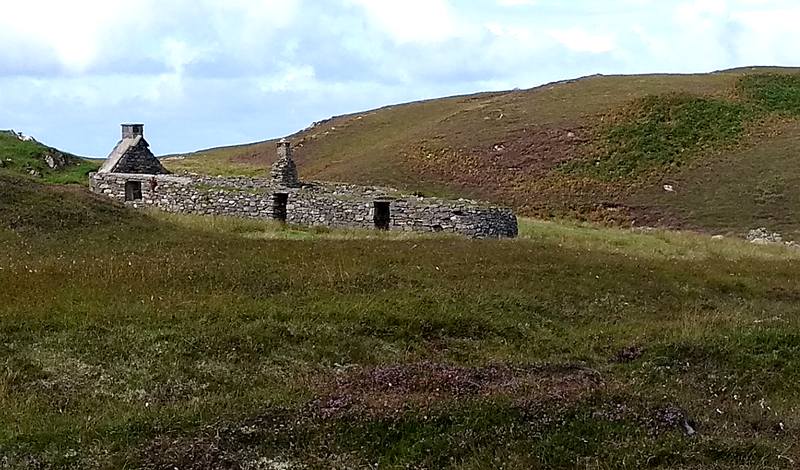 An abandoned village by the coast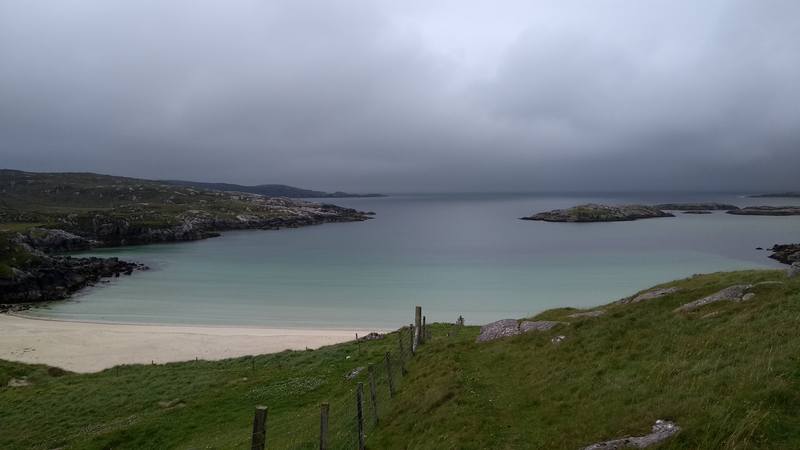 Next Stop: Canada
Lewis is a large island with thousands of years of human occupation. Today we'll see places from the last two thousand years, beginning with a drive to the beautiful and remote island of Bernera where we can explore a fine example of a recently excavated Iron Age village on a sandy beach and enter an authentically reconstructed house. After lunch we'll visit the birth place of a 17th century seer, famous in Scotland for "The Second Sight" and perhaps we'll see a little of the Norse history.
Day Eleven
Cnoc Ceann a'Gharraidh
© tour guest Amanda Bracco.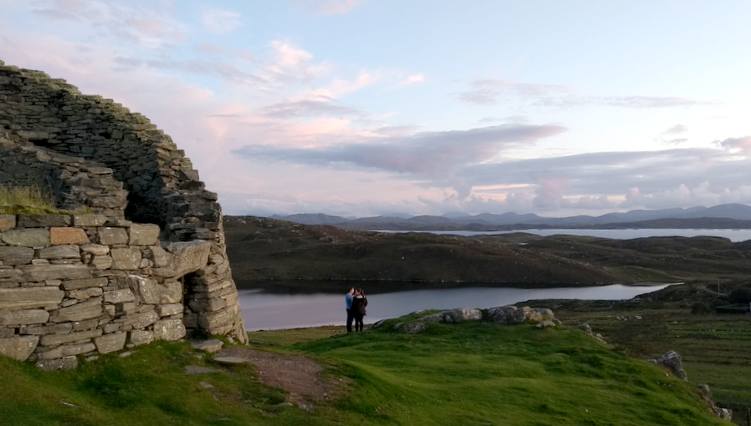 Dùn Carloway overlooking the sea
We start the day with a walk to Dùn Carloway (Broch), a ruined tower over 2,000 years old, then free time for you to spend as you wish: deepening into this sacred landscape, meditating, journaling, or taking a bus to explore the lively historical town of Stornaway.
Day Twelve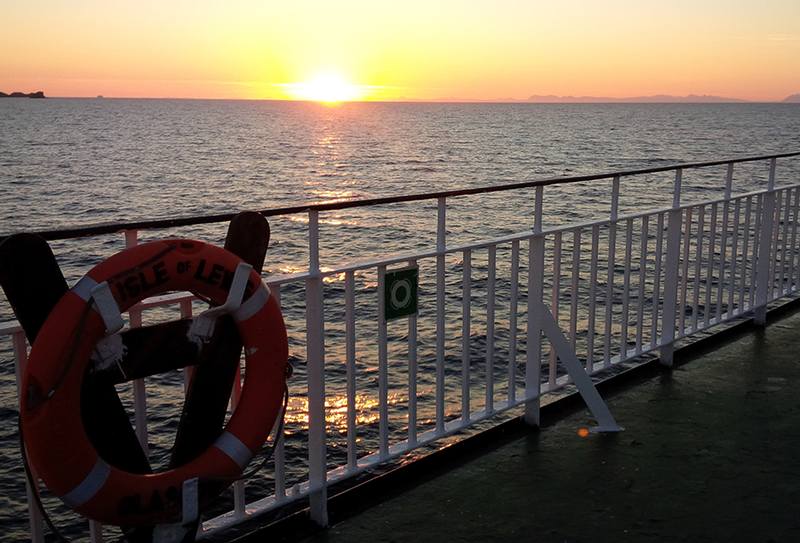 Leaving Lewis on the early ferry.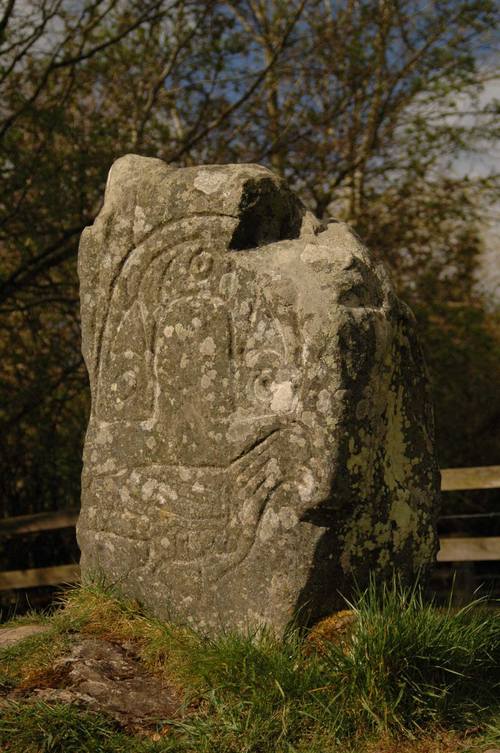 The Eagle Stone.
An early morning ferry takes us back to the mainland, landing at the fishing village of Ullapool. After a stroll through this harbour town, we travel through the Highlands and pick up on the story of the seer from Lewis, visiting the area where he lived as an adult and the place where his 'gift' and sharp tongue brought him to a sticky end. This evening we relax in the heart of the Highlands, to celebrate our journey together with a farewell dinner and closing circle.
Day Thirteen
A homage to Celtic oral literature in woodland form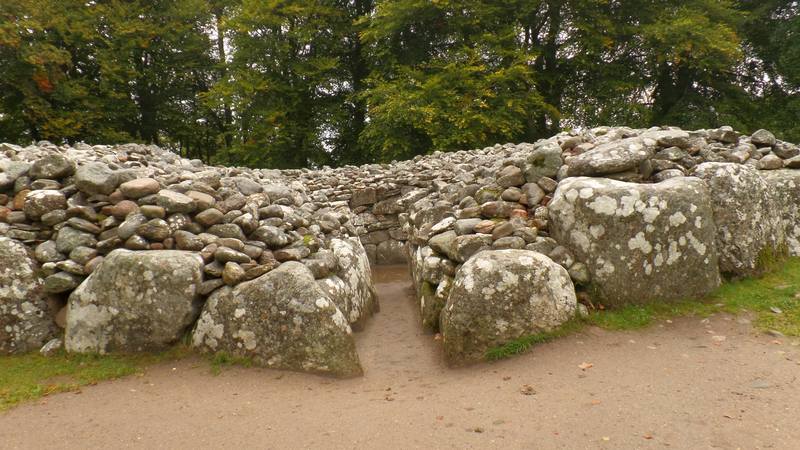 5000 year old cairns at Clava
Yet there is more! This morning as we make our way south, we will visit the Clava Cairns, one of the best preserved Bronze Age sites in Scotland in a lovely woodland setting. A final stop to immerse ourselves in a spirit of ancient Celtic poetry will set us up for our journey to come full circle as we arrive back at the Edinburgh start-point for farewells to Scotland and the friends we have made along the way.
Note: We may rearrange the order of the itinerary, usually due to ferry times and Sunday closing of certain sites on the islands.
Some images taken on this tour (hover/click to enlarge)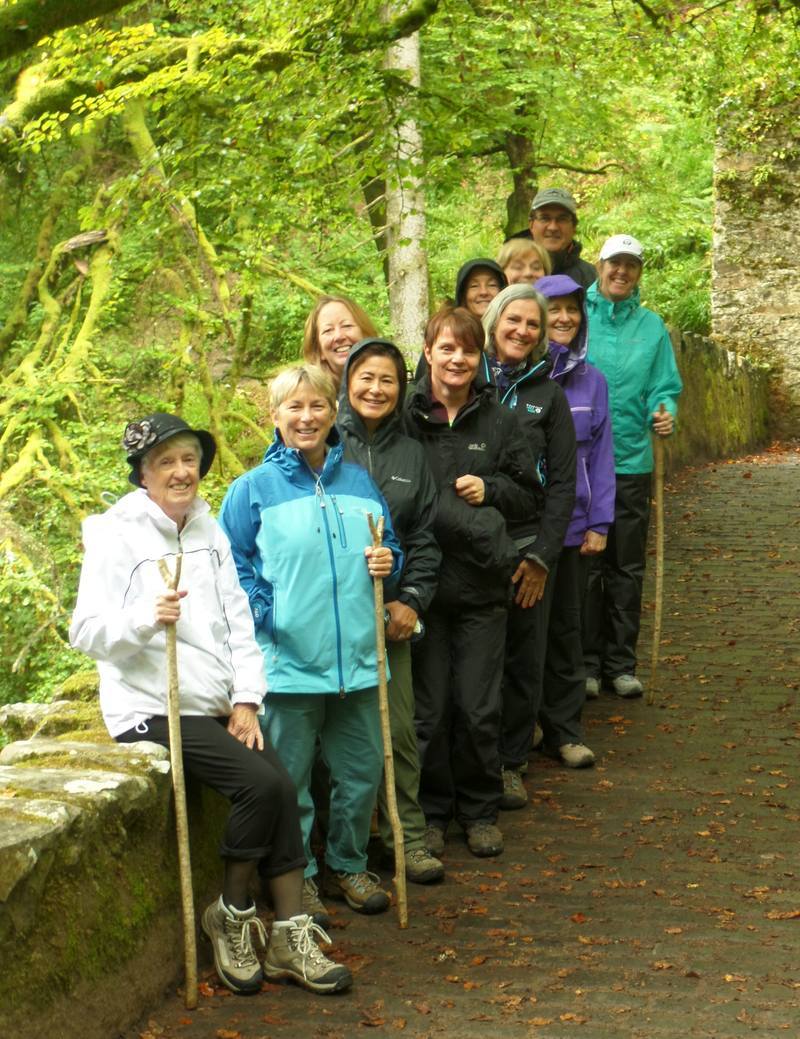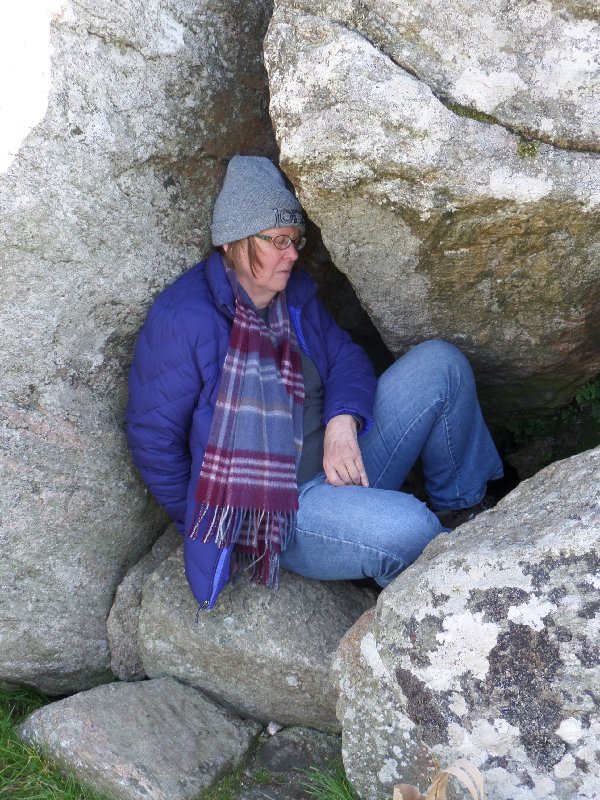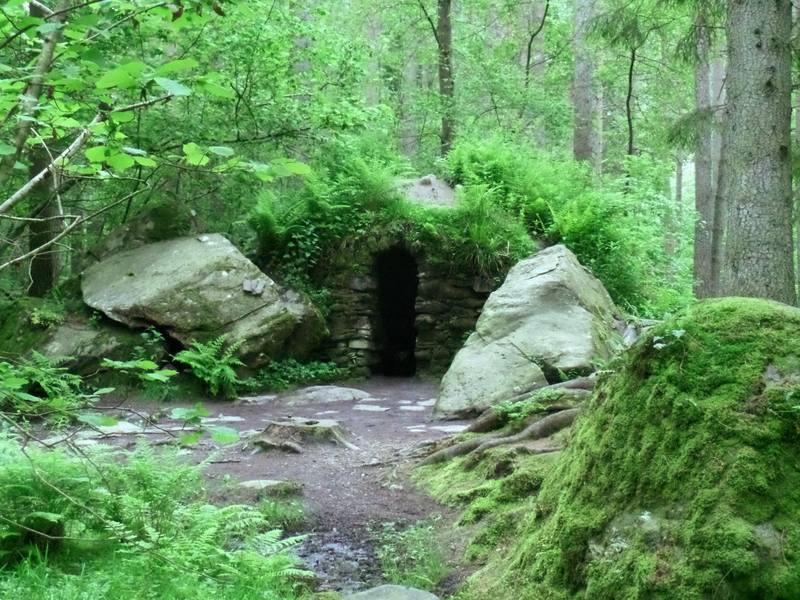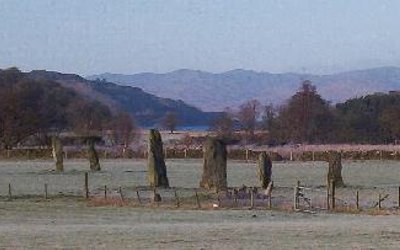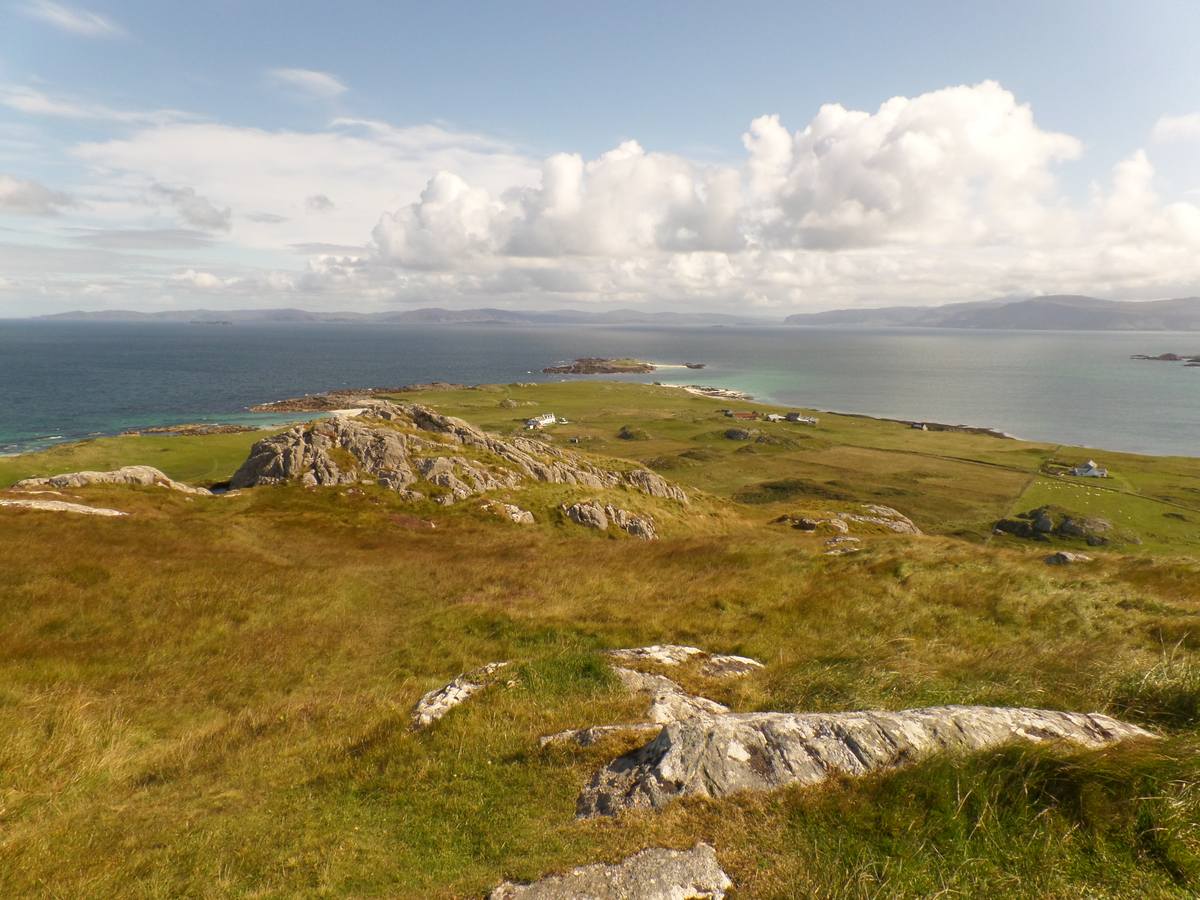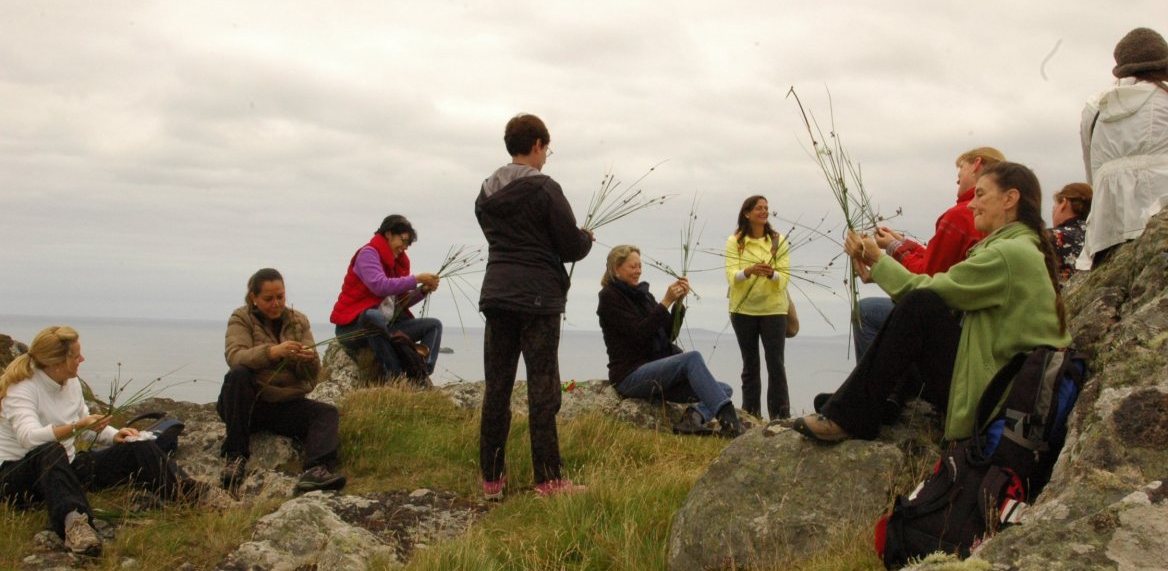 Tour Price 2022
$3945 per person, sharing twin room,
$4545 solo traveller, single room
(XE.com currency converter)


What's included in the tour price:

Thirteen full days of guided touring
All transportation from / to Edinburgh our meeting point
Your accommodation for twelve nights*
Arranging most group dinners (and leaving one or two as 'free nights')
Daily breakfasts
All entrance fees to ticketed sites
All applicable taxes

Not included in the above price:

Your flight
Lunches and the remainder of the evening meals (although some are arranged for you as group meals. Food cost for the week per person is about £180-260, depending on your tastes.)
Evening meals**
Travel insurance

*Everything you need to know about accommodation, deposits and payments (including COVID19 contingencies) is on the TnC page (new window), which you should read before booking, while questions about almost everything else tour-related are answered in the Other FAQs section (new window).
** I like to give guests the choice of where, when and how much to eat in the evening, if possible, hence leaving this out of the tour price. In some remote locations, where choice is limited to one hostelry, I book a group dinner reservation. See Meals on the FAQ page (new window)
Can't make 2022? You can be kept informed of the tour's release date each year by joining the Mailchimp list and selecting "Mara's Spirit of Scotland Tour":
Activity note
As with all our tours, they are active. However, the Spirit of Scotland tour is less so: there are no 'hikes' and only two occasions when a hill ascent is required (and one is optional). The hill ascents are only about 200 feet / 80 meters. However, days and sites will be experienced by foot, rather than in a vehicle as much as possible.
Other physical requirements: Guests will carry their own luggage between vehicle and accommodation and for Iona guests will move their own luggage from the vehicle onto the ferry and off the other side (no vehicles on Iona). In some remote places, the next toilet break might be two hours away, with only Nature's Bathroom as your fallback. When you apply for a place on the tour, you will be asked for some health and medical details. This is used by the guides to assess whether you will be comfortable on the tour.